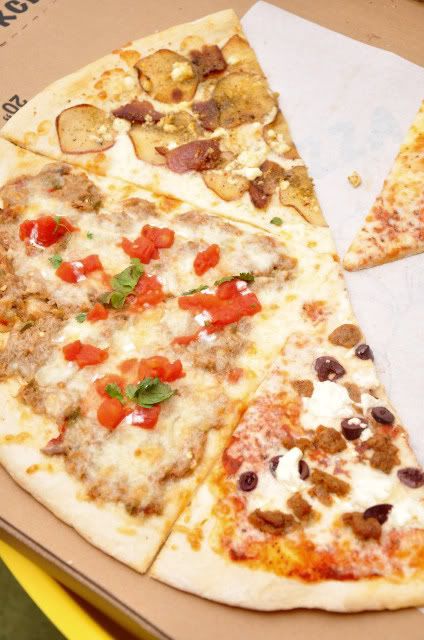 This weekend we were treated to
SLAB's newest creations
. Chili Verde, Fennel Sausage with Chevre and Rosemary Potato with Bacon.
A nod and a wink to SLAB for being daring--for pushing the creativity on these new slices. And hooray to a pizza joint slightly south of campus that isn't afraid to put goat cheese next to sausage and sell it like it's hot. Even the Fat Crust People can't argue with that slice of bravery.
Ultimately, my vote goes to the Rosemary Potato with Bacon. Seasoned with the spice and salt, the thin slices of potato compliment the thick slices of bacon. And what is that cheese dribbled on top? Ricotta? Feta? Goat? Cow? Cow?
So as far as favorites go, I'd still go with the Buffalo Wing, then the Thai Chicken with a Rosemary Potato with Bacon sliding easily into third. For someone who has spent most of her life and first pregnancy hating pizza as if it were edible communism (annihilate marinara sauce, somebody!) I salut SLAB for thinking outside the (pizza) box.
Next I'd like to see some pear, caramelized onion, Gorgonzola, walnut melody. Eric? Andy? Simy? You hear me?
Check out my former post on SLAB
here
.
Or Jonathan Canalas photography of SLAB
here
.
I am c jane and I think the future of Provo is in the stomach of the citizens.
contact me:
cjaneprovo@gmail.com
or


join me on

facebook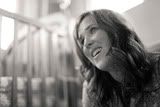 . . . remember the Nearer album giveaway?
We picked a winner!
km said...

i can't pick a favorite, but i want this cd.
Congrats km! Email me?
Thanks for entering everyone!
And thanks to Scott Wiley!