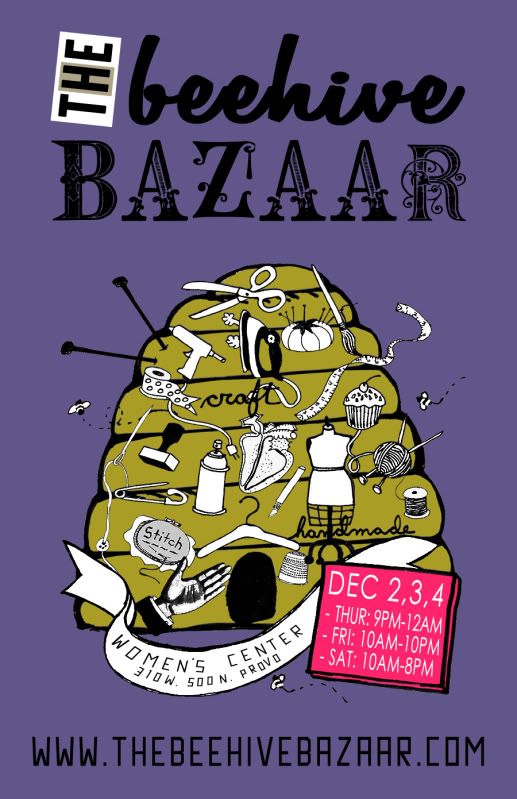 Earlier this year I was talking to
Noelle Olpin--co-founder of the Beehive Baazar--we were dreaming up ways we could bring the BB back to Provo, where it belongs. After a brief excursion to Thanksgiving Point last year the BB is back in Provo this year in the Women's Center! I couldn't be happier about it. Thanks Noelle, Molly and Duane for finding a way to make it work.
Another brilliant feature? A $4 charge for the late night Thursday shopping. It's usually mayhem and a cover charge is a smart way to weed out those who are serious about their BB shopping experience. See you there!
New to the Beehive Bazaar? Here is their press release:
Always Unique, Only Handmade & Continually The Best
It's got the frenetic energy of a punk show, the culture of an art gallery, the community of your local farmers market, oh and lest we forget, a superlative shopping experience that is truly unparalleled anywhere in the state—it's Utah's own, independent arts and crafts festival, the

Beehive

Bazaar.
For seven years and fourteen shows, Noelle Olpin, Molly Call and Duane Call have hosted the bi-annual show providing a stage for local artists and crafters to share their unique, handmade wares with the community.
"We're selective" says Molly Call, "If we're going to include something in the show, it's got to be unique, quality, handmade and most of all something we'd want to buy—it's not about quantity, it's about showcasing the very best, every time."
In addition, Noelle Olpin says, "We focus on keeping a balance of new vendors and Bazaar veterans so each show maintains an air of familiarity and comfort spiked with plenty of surprise."
This season the

Beehive

Bazaar will be held at the Women's Center in Provo Utah, "It's always been a place where the community has gathered—it's at the heart of the town, close to the park, the city pool and the baseball field. We love supporting local culture, and think it's the perfect place." Duane Call said.
The Winter 2010 vendors offer a wide variety of arts and crafts including paintings, prints, jewelry, glass, paper, felt, glass, ceramics, bags, skirts, aprons, dolls, cards, home décor, ornaments, jams, cookies, cupcakes and oh-so much more. This season's vendors include:


Jennifer Wakeland and Heather Van Dam
Krista Schmitz and Shelly Perkins
Zoe Jacobson & Jeremy Josephson
Visit

www.thebeehivebazaar.com

to learn more about the artists, preview what they'll have to offer and learn how to get involved yourself—the Bazaar is always scouting new talent.
The

Beehive

Bazaar dates, times and location:


- Thursday, December 2, 9PM – 12AM
Entry fee of $4, Thursday evening only
- Friday, December 3, 10AM – 10PM
- Saturday, December 4, 10AM – 8PM
- The Provo Women's Center | 310 West 500 North
For additional information please email us at
beehivebazaar@gmail.com
.
I am Courtney Kendrick and bring on the BB!
contact me:
cjanemail@gmail.com