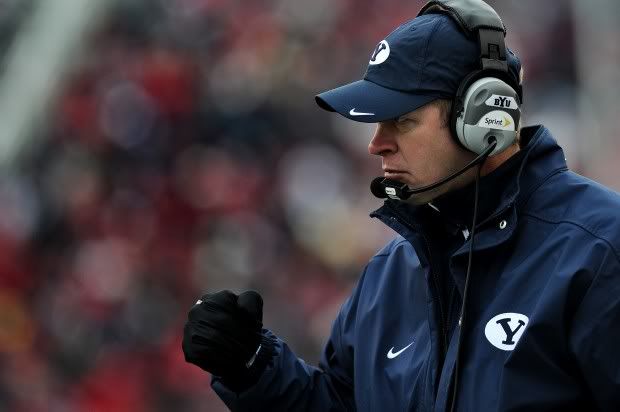 Do you feel like the BYU v Utah game brings out the worst in you?
Yeah...me too, just ask my kids.
Do you feel like the BYU v Utah game is more than "just a game?"
Yes, me too! I know there are more of us out there.
Please tell me how you coped?
I've tried to mend my ways since President Dieter F. Uchtdorf's priesthood meeting talk this last October. It's hard. After the loss, I personally had to get out of the house and go for a ride for about an hour to cool down. I can't stand the Utes! They certainly were handed this win on a silver platter. So lap it up Utes, with Jake Heaps at the BYU helm it may be a few years before you see another victory against the men in blue!
A few years ago Coach Bronco Mendenhall coined two magic words,"fully invested." I've been fully invested since conception. There is something sacred about game-day Saturday each fall in Provo that had me at hello. I feel a small depression creep into my being this time of year as the football games end.
BYU Basketball you ask?
It just isn't the same. I'd rather stay home than battle the elements and traffic to watch a sport that just cannot fill the football void. Believe me I have tried.
What about our Utah Jazz you ask?
Well, I cannot get into watching overpaid professional athletes not compete hard. Not to mention their season ends about the same time they start setting up the stage inside the LES for the Stadium of Fire. In other words, the NBA season never ends...nope, not fully invested. I am rambling here...so let me give you my two cents on last Saturday's rivalry game and a few things I noticed.
My random thoughts- very random.
• Utah's Brandon Burton made a big boy play by blocking the final kick. It was a spectacular football play. I can appreciate that.
• I thought Mitch Payne might redeem his older brother who missed a chip shot against Boise State in 2003 to win the game. Remember? Painful.
• I thought a penalty could have been assessed against the Utah bench for running onto the field in celebration before all four seconds had ticked off the clock...sour milk?
• Were you yelling at Brandon Bradley to "get down" as soon as he intercepted the football? Me too. I thought BYU got its fair share of reply booth calls this year so stop whining. Luke Staley fumbled on LaVell's last miracle in 2000. Ute fans can we call it even?
• I have heard a lot of complaints about the 4th down play-action fake. Most people think BYU should have kicked a field goal. I personally thought it was a gutsy call and had we converted it would have been a genius call.
• The ability to make a "U" out of both thumbs and index fingers was a brilliant invention- very Ute-esque.
• No more games on the MTN TV network. No more watching games on so called HDTV from someone's Sony Handycam. I could hardly stomach the MTN's sports analysts after the big Independence announcement.
TCU to the Big East....did you hear?
• Utah left the game in a gloating heap. Rightfully so. Shaky Smithson smacking a Cougar helmet with a stick will be etched in my mind forever.
• Again, Jordan Wynn is not very good. Ute fans I am not sure what is left on your team next year to be excited about.
Win or lose, you cannot deny a good game when you see one. This was another rivalry game for the ages! The game ball goes to Bronco. He's great. September 2011 cannot come soon enough.
Photo from here.
I am Courtney Kendrick and there's nothing like a good old fashioned rivalry.