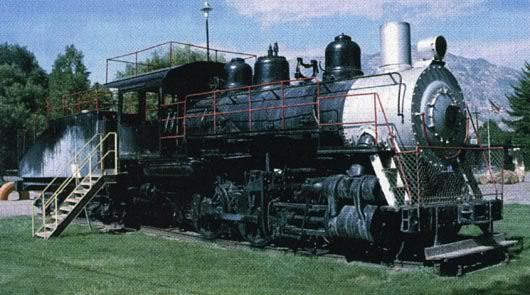 Photo of the G.R.A Steam Engine found here.

The secret to loving Provo is understanding the dual nature of the area. There's BYU, and there's Provo. I happen to love both. Still, it's understandable that many people conflate the two worlds. Even though I was born and raised in Provo, I moved into an apartment south of campus while attending BYU (King Henry followed by an upgrade to Condo Row, of course). My roommates couldn't wrap their heads around my origins.
"Wait...you're from here?"
The vocal inflection was always on the from, not the here. It wasn't the disdainful questioning that seems to come from those who never venture past IKEA. It was an expression of legitimate wonder from people who weren't aware of an entire community sharing the same space.
They had no idea there were people going to high school across the street who never thought twice about anything happening on campus. That's no hyperbole, by the way. The "inner city" high school where cjane and I attended sits directly across the street from BYU. But somehow it's a world away. While the Cougars are eating dinner in the Cannon Center, the Bulldogs are driving around behind Movies 8.
The common ground was the Wendy's on Bulldog and Canyon Road, before it was remodeled to remove its soul. In the early 90s that little restaurant was the epicenter of Provo nightlife. It was all soft and comfortable inside, with a nice salad bar in the middle making it seem a lot classier than it ever should have been. On any given night the crowd would be evenly divided between BYU, Provo, and Timpview kids. All anyone wanted was a junior bacon cheeseburger and a chance to people-watch. I sat next to Ty Detmer in that Wendy's and also had my world shattered when a I saw a girl from one of the seminary videos in line all draped over her boyfriend.
For a guy like me, growing up in Provo wasn't about BYU, it was about three things: the Utah Jazz, Provo High basketball, and G.R.A. Park. The Jazz and PHS need no further introduction, so let me tell you about my park. It had all the necessary amenities to be keep me interested in all stages of my life: a little stream I could jump across from just about every spot except the very middle; A hillside with a million trees and signs trying to keep us out; horseshoe pits, volleyball courts (that we used for soccer), softball fields (that we used for soccer), and a tennis court (that we used for soccer). It had a little hill for sledding and pavilions for picnics.
The park was magical for a lot of reasons, but mostly because it had a real train in the playground. Here's a very cool write-up on the history of the train:
http://www.steamlocomotive.info/F62003.cfm
Provo was a steel town for the better part of the 1900s and G.R.A was a private park operated by the plant for use by Geneva Steel workers and their families. The neighbors were given free access in exchange for allowing loud company parties that would bring thousands of guests and cars parked for blocks. The steam train engine that you could climb all over. Most of my childhood was spent crawling in and around that train.
Sadly, the park closed in 2003 and fell into complete disrepair. The train was removed and a small private school bought the land and built a new building on the spot where I spent a good portion of my first 18 years. The train is now on display at the Heber Valley Railroad:
http://www.railpictures.net/viewphoto.php?id=176278
http://abpr.railfan.net/abprphoto.cgi?october05/10-15-05/Heber_Valley_Railroad_080.jpg
G.R.A. Park was like the Wendy's of the west side. It brought the steelworkers together with the BYU crowd. It was the place for union barbecues on the 4th of July and legendary MORP dances for the high school kids. I want to hear all your G.R.A stories in the comments, but I also want you to read the following obituary for the Provo man who created the park and lived a spectacular life that encompassed all the things that makes me love to be from here:
http://ads.heraldextra.com/articles/2010/04/04/obituaries/obit-04-04-2010-lawrencejayyoung.txt
Spencer Ryan Hall was my first boyfriend at Dixon Middle School. It was a short-lasted affair when I realized I was actually too shy to talk to him. Later in high school we became comfortable friends and served together in student government positions (Go Bulldogs!) Spencer is a great soccer player, socializer and runs ESPN's Jazz Blog called
Salt City Hoops.
And yes ladies, HE IS SINGLE.



I started this blog as a love letter to Provo

.



contact me:


cjaneprovo@gmail.com