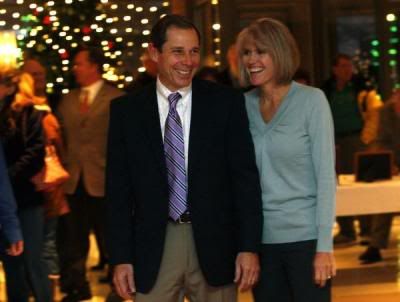 Date Night Curtis Style: Dinner, Movie and Sweets
After a long week of serving as mayor to the best city in the world, I'm more than ready to get away from the office and spend a relaxing evening with my lovely wife Sue. This is what we like to do:
Step 1:
Head to
Movies 8
. We've never lost our love of a great value and somehow paying a couple of bucks for a movie is just about as much fun to us as the movie itself. It's clear we are not alone with our pick. The last two movies we went to see were sold out! My suggestion--pick up your tickets before dinner.
Step 2:
Grab a fast dinner at one of Provo's many great restaurants. Sue and I love our traditional, never disappointing regulars like sharing an order of sizzling fajitas at Los Hermanos, or getting a perfectly cooked Porterhouse at Ruby River, or enjoying the perfect crust of a
Brick Oven Pizza
. Provo has many new faces in town to choose from also. We love the home cooked meals from
Molly's
off Columbia Lane and enjoy eating with friends at
Spark
and
Communal
.
Step 3:
Head back to Movies 8. See step 1, above.
Step 4:
Top it off. I suggest going to the
Sweet Tooth Fairy
and ordering some of the cake bites the owner shared with the KSL TV personalities a few months ago.
The future in Provo is incredibly bright and the number of activities for nights out with family and friends are only increasing. I'm glad there are so many who appreciate the wonderful features of this great city as much as I do.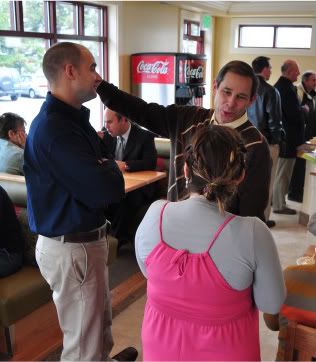 Here is a photo of me meeting Mayor Curtis last week at
Molly's
.
See?
No hard feelings.
p.s. I love the mayor's
blog,
it's pretty entertaining.
Ahh Provo Romance!
contact me:
cjaneprovo@gmail.com