Last night our beloved Provo Tabernacle
went up in flames. I am in shock as sure we all are.
Here's a video taken by a woman at the scene last night:
Read ksl's breaking news
here
.
The roof just collapsed and it's not looking good.
Here are what I believe are the best photos we've seen so far. These are from one of my newest Provoan friends
Clarrisa
Gonzales from the NuSkin building across the street.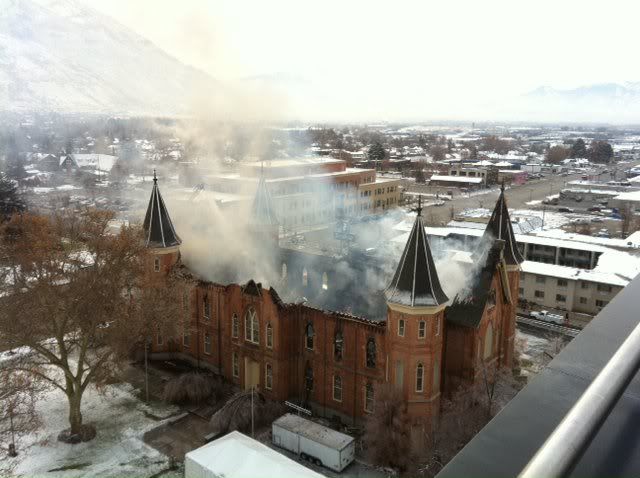 Thanks Clarrisa.
I drove by early this morning and downtown was busy with firefighters, spectators with cameras and people crying.
More photos
from Luke Hansen
here
.
There is now a facebook page
set up by the Provo Arts Council
Remembering the Tabernacle
.
Here's my
not-at-all-over-dramatic (gasp!) sound bite from ksl.com's
Community 'heartbroken'
piece:
"I'm really hoping that there is some way to save some part of the history of the place," she said. "This morning, when I saw that it was up in flames, I felt a shock like I would if it was a family member. I think that losing the Provo Tabernacle is like losing a prominent member of our society. It's going to be felt far and wide. It's a huge loss."
8:55pm
Went to dinner tonight with the family downtown. Flames were still going strong. As were the crowds. We'll see what tomorrow brings...
Thanks Provo Fire for all you are doing!
I am C. Jane Kendrick and it's a sad day in Provo.
contact me:
cjanemail(AT)gmail.com
c jane on facebook