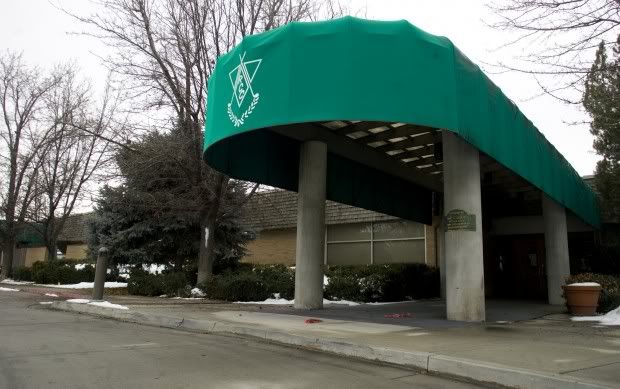 While on my way to
my sister in law Megan's house the other day, I turned on to University to see the end of the old Riverside Country Clubhouse. The entire building was being demolished, flattened, vanished into the cold, dark recesses of history.
Before the new clubhouse is built I'd just like to ask for a moment of silence for the old structure. A moment of silence, here, on my blog. Start your sixty seconds now:
You might wonder,
what is with c jane's sentiments towards the old edifice? I reveal this to you. Much of my high school life was spent eating at that clubhouse. My family went there for the Monte Cristos and a slice of grasshopper pie. Come to think of it, I might've eaten there more than my own home in those formative years.
Nevermind that it was more like an Old Folks Home than a Country Club. Decorated to the hilt with turquoise silk flowers and stuck with a funny, musty smell.
Nevermind that it served mostly denture-friendly food, soft cordon bleu and salted steamed veggies.
Nevermind that only two percent of the time my order was brought to me as I had ordered it.
Nevermind that we were the only Bulldogs in a sea of T-birds.
I shall always remember it fondly, with green awnings and jazz music in the ballroom. And I can never forget the raspberry vinaigrette, best in all the world.
Adieu old clubhouse.
Until we meet again in my memory . . .