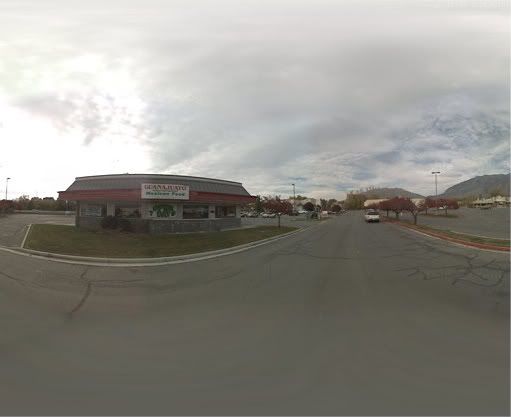 Here is what you and your date are going to do tonight:

First you are going to go to Provo's only Greek
restaurant the new Sadaf Greek Soulvaki (2448 N. University Pkwy). It has bravely moved into that Hire's Big H, Guadalahonki's, Ican'trememberwhatelse, building which has housed a chain of failed restaurants. You know the one, right by Movies 8? This time folks, this time the building has a winner.
Chup and I don't do Italian food (please don't throw stuff) but we do Greek. We try to seek out Greek food in any city, town, village we visit. So I feel you can hear us out on this one: Sadaf Greek Soulvaki is good Greek food.
Order the pita and hummus (honestly? The best pita I've ever had-soft and a little sweet.)
Order the chicken, beef or lamb kabobs. The beef is tender and tasty. We were very surprised at what a great taste we were getting from the beef kabob. But all three have exciting possibilities. Dump them in the tzatziki--cucumber sauce. For a side try the seasoned potatoes or rice. Heck, I even like the fries. I think you will too.
Order all of this to go.
Next stop by your nearest grocery store to buy ingredients for your choice of desert. Brownies are especially smart this time of year.
Take it home and make yourself a picnic of sorts in front of the seven o'clock Olympic tv coverage. You are going to view some Alpine, some Ski Jumping and the always entertaining Ice Dancing. I know the "experts" warn never eat in front of the tv, but believe me, even "experts" make an exception for the Olympics.
When you are ready, and Ice Dancing is especially dramatic, excuse yourself into the kitchen and whip up the desert. Did you pick brownies?
My mouth is watering even as I type this. Greek food, Bode Miller and brownies. Can I come over?
Read the Daily Herald's review on Sadaf Greek Soulvaki
here
. And UPP's post about it
here.
And I hope you don't mind, but I took the liberty of telling Navid the owner to expect you.