Topher (formerly known as The Jolly Porter) is the funniest guy in Provo. He also happens to be our most successful director, energetic actor and yes, my brother. Here is his account of Archie and the MoTab.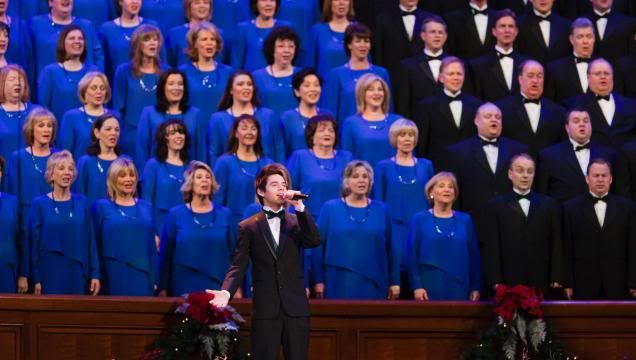 photo: Intellectual Reserve, Inc
Few things could have improved upon
the David Archuleta Mormon Tabernacle Christmas Extravaganza 2010. It was an almost perfect night, filled with all the things I like about Christmas: giant plastic glowing candles, screaming teens, and "A Holiday Hoedown" on the organ. Even though I am in the arts myself, and even though Courtney charged me to review the concert, I have to admit that I had a fantastic time and don't have many criticisms. Though that was partly due to the face that my seats were third row and center, so I was able to lose myself in the performance (well MOST of the performance. More on that later.) I wanted to be able to walk out of the concert saying "Archuleta? More like Archu-letdown!" but there was genuinely no call for that. He was awesome!
I attended this performance with my wife Lisa and my three oldest children. I couldn't help but notice that our seats were slightly better than those of President Uchtdorf and President Eyring, two men that my wife seems to have an inappropriate crush on. I'm not showing off about my fancy seats, I'm just making an observation. And that observation is that this was Lisa's dream come true: she felt secretly caught in a romantic triangle between two spiritual giants with an appreciation for all things Archuleta. Though she never mentioned it, it surely reminded her of college days at BYU, when she was caught in a similar romantic dilemma and forced to choose between a handsome swimmer with a full head of hair and his balding, bespectacled best friend. Lisa went with the Eyring option, and here we are. But you know there will always be room for an Uchtdorf in her heart.
Anyway, back to the concert. David Archuleta was in fine form. He enthralled the audience with his crooning and his charming, humble "aw shucks" demeanor. Of course, not EVERYONE was enthralled; my oldest two boys slunk in their seats the whole time like they were at algebra camp. But that may have been residual pouting left over from the stern talking to Lisa gave them in the car about wearing white socks with their dark slacks. Everyone else in the audience seemed to really love the concert, especially connecting with "Silent Night" and "Los Pastores a Belon," a Christmas song en espanol which could have been "Feliz Navidad" and no one would have known the difference. David Archuleta held that audience in the palm of his hand – an amazing feat considering that he's just twelve years old. And so what if he breathes heavily into the mic and licks his lips a lot? That's nothing that an inhalant and a tube of chapstick can't fix.
My favorite moment of the program was when Michael York, yes that Michael York, read Luke 2: The Christmas Story while David Archuleta sang along. We all got goosebumps. It was very well done. While there were hundreds of pre-teens just outside craning their necks for a sight of David A, I found myself slightly more star-struck by Michael York, a master thespian who should be recognized for more than just the Austin Powers movies. He was a class act and a true highlight! Another favorite part, as I mentioned earlier, was when Richard Elliott played "A Holiday Hoedown" on the organ. It was basically that song they play on TV whenever chickens get loose and run around the pen, but with more of a festive twist. I liked that song a lot! And Archie (nickname) sang a great carol called The Cat and the Mouse Carol, which was about a cat and a mouse at the Nativity. This reminded me fondly of my two year old daughter Margaret who literally thinks she's a cat and won't lift a finger around the house or give you the time of day unless you scratch her back and call her "Pickles."
If I have one criticism of the concert, I would say NO MORE DANCING. I'm not a huge fan of dancing anyway, but I don't get why we need dancers during the Christmas show. The singing is fine. It's really enough. Everything would be going along really great, and then suddenly 4500 dancers would traipse down the aisle dressed like pioneers, mouthing the lyrics with the choir and doing backflips like they were in Pinecones and Petticoats. I'm sure they were really good dancers and everything, but I would recommend less dancing next year; leave the hoedowns to the organ player! Just my two cents!
In the end, it was a wonderful night! They filmed it for PBS, so you can watch next year. I think you will like it (MOST of it) and I think David Archuleta should be very, very proud of his work. I am one of the 33 million people who watch American Idol, but only one of about 12 people who admit to it. I remember Archie singing on that show; he was great then and seems to be only getting better. A big thanks to everyone involved in making the concert a resounding success!
I am C. Jane Kendrick and I'd like to thank Topher, Lisa, Miles, Owen and Phoebe for this review.

contact me: