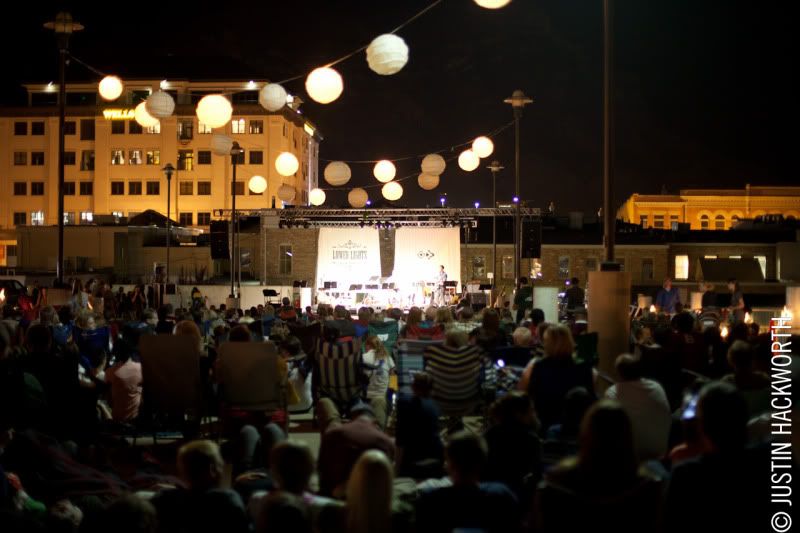 Provo Utah,
hold your head up high. Last Friday night something beautiful happened and the 1,000 people that showed up left happy and feeling good, good.
But maybe we should start at the beginning.
In February or March of this year, everyone's favorite blogger,
Courtney Kendrick
asked me if I wanted to be part of a committee of folks interested in making Provo a better place. I'll be honest with you, I was just happy to go along with any plan that included me getting to hang out more with Courtney. Count me in, I said. We had a couple meetings and talked about ways to bring people to downtown more often. Get them milling about, get them going to the downtown restaurants, get them to be part of this great town.
So then
Andy
thought it might be a good idea to have some concerts. What if we had them on a rooftop, he said. Great idea we all said. A rooftop. What fun! So Sarah Wiley and I took a little field trip and scouted out some obvious options. One of the things that played so well in our favor is that Richard Gregory from the
Provo Town Square
was already on the same page as us and had in fact, dreamed up something similar to what we were thinking and graciously offered his property as a location. Richard Gregory, we thank you.
But back to the story. We had an idea and we had a location. So we kept having meetings. We met at my office and we met at Mindy's office. And for a while, that's about all we did was talk. Concerts take money and they take a lot of work. Then, two things happened that changed this from an idea to an idea that would actually get done. First of all, Courtney told us she would sponsor the concerts. And by sponsor, she meant cha-ching, and by cha-ching, she meant put up the money. Wowza. That was huge. And generous. The next thing that happened is that Sarah Wiley, with four kids and a full time job, took the bull by the horns and started making assignments and telling us all what to do. Anyone that came to our first two concerts should know that without Courtney and Sarah, this would not have happened. Another thing that was essential was that
Mindy Gledhill
put on a CD release concert and donated all the proceeds from ticket sales (a nearly sold-out show at the Covey Center) to our concert series. See, Courtney, Mindy and Sarah are true champs.
So now we've got some dough and a location. Next item, put on a damn show.
We lined up Benton Paul and Nic Day and back in September, had our first rooftop concert. Man, that felt great to have talked for so long, and then have something actually happen. Good crowd, good times.
Oh, but then…
But then on Friday, for our second concert, we lined up
the Lower Lights
. We already knew we'd have a big crowd. Their CD had just been released and people were talking. Folks in the Lower Lights had heard of friends driving from all over the country to come to the show. Everything was lining up just right.
And so, Friday night could not have been more magical. We packed 1,000 people or more on the top of the Central Bank parking lot on one of the most gorgeous nights in October history. You didn't need a jacket but you could benefit from snuggling close to someone you love. That's what I did.
Now, I've only lived in Provo 5 years, but I can't imagine this town has seen very many concerts that were better than what we got last Friday night under the stars. Carrie Underwood at the Stadium of Fire? You've got to be kidding me.
If you missed the show, don't cry too hard. You can still get
the Lower Lights CD
, and as far as the
rooftop concerts
go, this is just the beginning. We'll have some more next year. After all, there's a group of us that care about making Provo a better place than it already is. If you live in Provo and want to be a part of something great, let me know and we can use you for next year's concert series.
And now, the Lower Lights.
I am c jane and I'd like to thank Justin for this piece of art. It's been fun working with you pal!
contact me: