Chup here,
and I just found your new favorite sandwich.
Well, I found my new favorite sandwich.
If you're a fan of Philly Cheese Steaks -and even if you're not- you're going to want to hop, skip and/or jump down to Angels of Philly. Thank me later. It's next door to Los Hermanos.
Get the 7$ Cheese Steak Whiz Wit combo. "Whiz" is cheddar cheese, and "wit" means "wit" onions. You can get it "wit" or "wit-out." (Say it with a boston/jersey/philly accent.)
The steak is amazing. Satisfying hot tasty goodness. Lean, flavorful, seasoned ribeye with just the right amount of cheddar chopped in. I take mine "wit-out," (sacrilege, right?) but it almost makes me want to try to like onions. Almost.
The regular is perfect, but order the large. Add some beer-battered fries (sure, it cooks out) and a drink and enJoy. Yup. Capital J. Oh, ask Steve to tell you the story of how he picked the fries.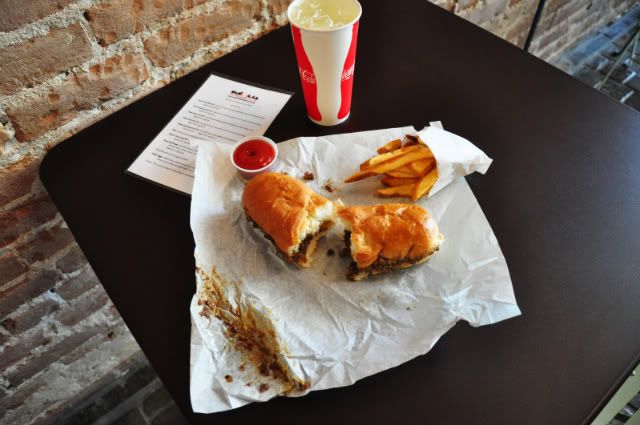 Steve is Steve Horn, the owner. He tells another story about how he made a mistake one day seasoning the meat, and he's never going to correct it. Amen and amen, brutha.
The 30-year Philly local also talks about how he's had a local baker try to replicate Philadelphia's
Amoroso
brand bread (dominates the cheese steak industry on the east coast.) Soft, chewy inside and crispier outside. Authentically sprinkled with a little cornmeal.
For those of you more into cold sandwiches, evidently the Creminelli and the Italian Hoagie are to die for. Both totally fresh and flavorful. On the Italian, all their peppers; sweet, banana, hot are shipped in special from back east. And the
Creminelli
: who knew that one of the most prestigious salami in the world is made right next door, in Springville?
Angels also does burgers and fries, but don't you dare.
Here's the thing: I've eaten there 3 times in a week's time since we tried it first.
I'm going back tomorrow to try the Chicken Steak Whiz. Seriously. Chicken Steak Whiz.
'Nuff said?
Mention of cjane gets you 5% of your order through the end of August.
peace - ck/chup
POST EDIT: Half a Chicken Steak Whiz in ma belly as we speak. Amazing. Rare that I find two favorites at any given restaurant. Is it wrong to be so excited about food?