This is a date for this Saturday

(Jan. 23rd)
and you won't be disappointed with me. I so pledge.
First, go try your hand

(belly)
at Provo's newest pizza, Slab.
I intend to give the place a full-on write-up next week, but until then take my word for it, EAT THIS PIZZA. Just the other night Chup engulfed his cheese and pepperoni (Chup's a traditional guy) while I had delicious dialogue with my Thai Chicken (peanut butter on pizza sprinkled with cilantro, oh died, oh heaven!) And the next day, when I ate it cold? Even better. That is the mark of a good pie. Telling you what Provonians.
It takes about ten minutes to bake (tell Eric Courtney sent you) so give yourself time to sit at the communal-style tables, relax and flirt. Oh I love to flirt. Almost as much as peanut butter on pizza. Please note: the pies are really generous in size, so watch the gluttony.
Here is the address:
(where Dew used to be)
669 East 800 North Provo, UT 84606
(801) 377-3883
Here is the
menu
.
Here is the
about
.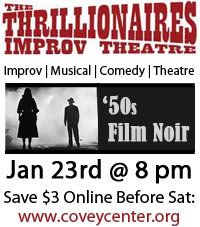 After the grub go get yourself
to the Covey for the Thrillionaire's Film Noir show.
The Thrillionaires are Provo's elite comedy troupe. Singing, dancing, dramatizing 100% improv comedy. As I read on facebook, this show is a favorite among cast members, so if you want to experience the Thrillionaires this is the one for you. Plus, it is cold and inversion-y outside and sledding is dangerous on non-existent snow. SO STAY INSIDE FOR THE HEALTH OF YOUR LUNGS!
(Who stopped praying for moisture by-the-way? Resume! Please.)
Show starts at 8.
Ticket information
here
.
Three dollars off if you buy online before Saturday!
Facebook page
here
.
After the show head up Center
to Sammy's and get your date an accceptable nightcap (drink, is what I mean).
(Click to pic to enlarge!)
Cupshakes courtesy of
The Sweet Tooth Fairy
are what I am recommending. But have at it! It is your night!
Sammy's address:
27 N 100 W Provo, UT 84601
Blog
here
.