Then: sad and sorry that
Angels of Philly
had gone out of business.
Especially because we'd --just a couple of weeks earlier-- won a $25 gift certificate for there from
Justin Hackworth
.
We told Justin we'd just accept cash.
Now: Glad about a new restaurant in residence; Station 22. (22 West Center)
To quote Richard Gregory - Owner, Proprietor and all around cool cat:
"I suppose the most important thing that we're trying to do with the place is to provide a sensible lunch option for busy professionals who also are concerned about the quality of what they eat. We use high-quality ingredients and I think that fact becomes obvious when they've tasted the food. We're not breaking any incredibly new ground, we're just providing really great versions of classic dishes for a reasonable price.
We're also pushing to offer as much local & sustainable product as we can. We source our bread locally and we plan to source local produce as soon as we can. Most of our dishware is made from recycled sources and/or is compostable. We also feature local art. We're obviously very pro-local!"
Preach on brutha-man.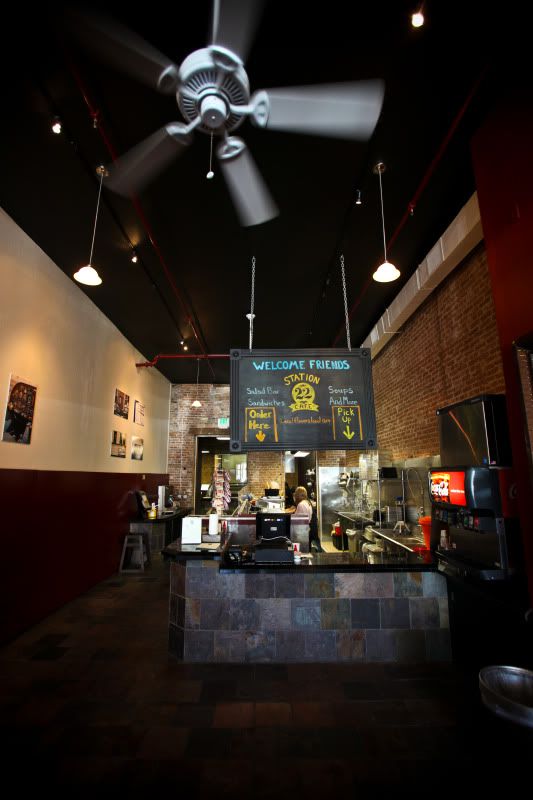 Best French Dip I've had in forever; savory, thin-sliced beef (no gristle!) topped with a generous helping of caramelized/sauteed onions, on what I thought was ciabatta, but I ate it too quickly to remember. And the au jus is amazing. Normally au jus is just not...tasty enough for me. It's thin and when it seeps out of the sandwich, you're left with just a tease of the taste you want. Station 22's au jus is oppositely, nice and strong. You taste it in your sandwich. If you don't inhale it like I did.
Highly recommended. Give Station 22 a try.
I hear the Meatball Sandwich and The Italian Stallion are both awesome.
Through the end of this month:
Mention C. Jane's Guide to Provo and get a free drink with a sandwich purchase. Let em know we sentcha.
Station 22 on facebook.
Richard is also working on some other projects: one of which will be called "The Bake Shop." In a small section of where Los Hermanos once was, a small dessert cafe, open early to late, with an underground "dessert lounge" will live. Hang out, munch a baked good, see live performances. Perfect for that morning pastry or a late night date without breaking the bank.
Excited. Peace - ck