.
For
the first time in I-don't-know-how-long, my dear bride and I were able to get away for an overnighter.
Que Romantische: One night in the European (Swiss) themed resort: The Zermatt. Reservation for two at Schneitter's Restaurant AND a couple's spa appointment the next morning.
I was particularly excited about Schneitter's. Because I love schnitzel. And spätzle. But mostly schnitzel.
"They'd better have schnitzel."
Thanks to some incredibly generous SIL's we dropped the kiddos off and headed up the canyon for the gorgeous 40 minute drive, reminiscing about memories and changes made in the canyon over the years. Bridal Veil, The Eagles Nest, Squaw Peak Trail, Vivian Park, Provo River, Deer Creek. Good times.
The Resort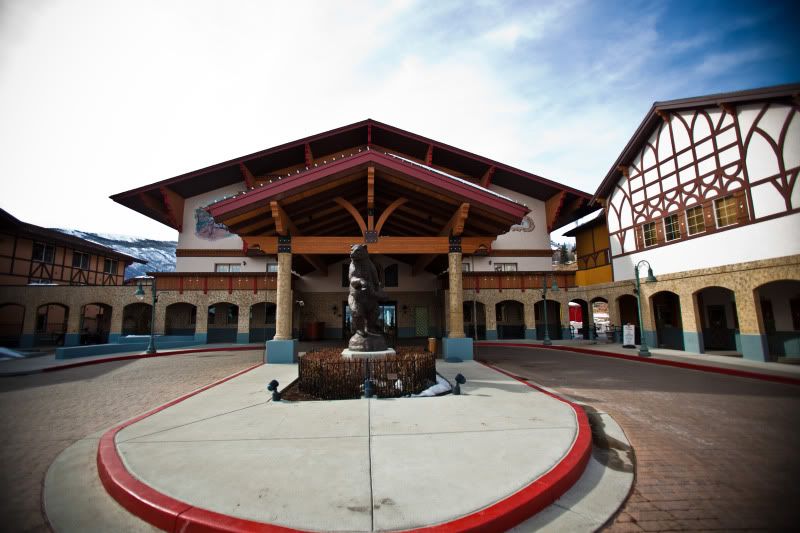 We wound our way back though Midway and arrived. Definite European air to the property. Cobblestone drive, chalet style design, and bears with accordions. Check-in was as courteous and professional as any resort we've been to (like, 2) and we headed to the room to relax a bit before dinner.
"They'd better have schnitzel."
The room was very nice. We stayed in The Villa, which meant a largish suite with a kitchenette, sitting room, bedroom and big jetted tub and shower. Swiss accents show through: decorative motifs on the walls, and little hearts cut out in the furniture. For those bringing the offsprings along, you can reserve a suite in The Villa with an adjoining bedroom that sleeps 4.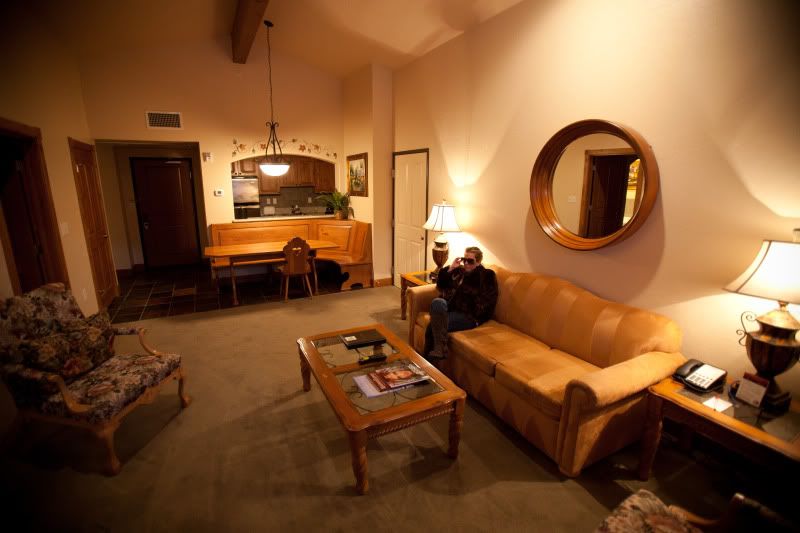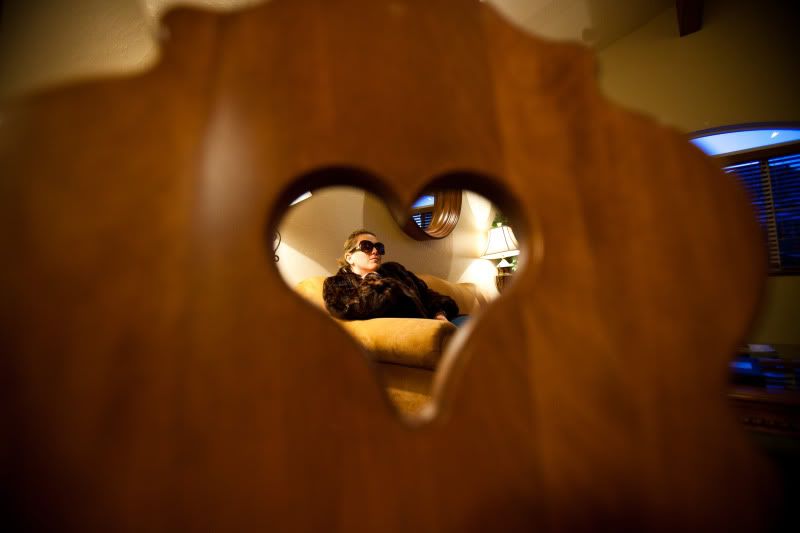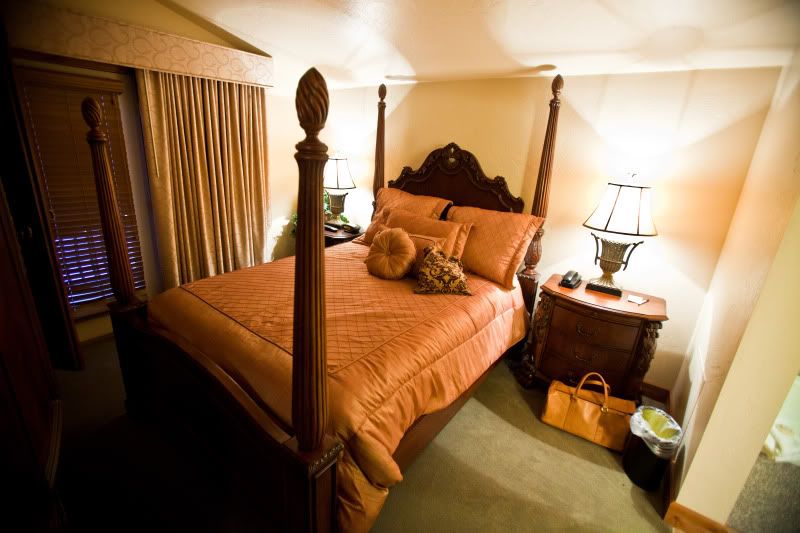 Dinner
Relaxed for a sec, then off to Scheitter's. They'd better have schnitzel.
Love was definitely in the air as we noticed --while browsing the menu (they have schnitzel!)-- several WOWIE evening dresses and canoodling couples sprinkled throughout the restaurant.
Dinner was wonderful. The appetizers - the house salad and the bacon and potato salad were unique and delicious. The schnitzel was excellent, served with house made noodles and a mushroom gravy. We also tried the filet, which was great, served with a potato and apple gratin (rosti?) Desert was creme brulee (of course) and this CRAZY danish (like breakfast danish) bread pudding thing that...well...let's just say: gluttony. Zero self-control. Wow.
Then a short walk and back to the room for some canoodling of our own.
Sleeping in. Oh man. You forget.
Walked over to Bäckerei & Eis to see what we could come up with for breakfast. Ran into the danishes that comprised the previous evening's...episode, and when with a ham and swiss croissant. And an eclair. Well, two eclairs, one milk and one dark chocolate. And a fruit tart. And some other items. Now I'm embarassed.
The Spa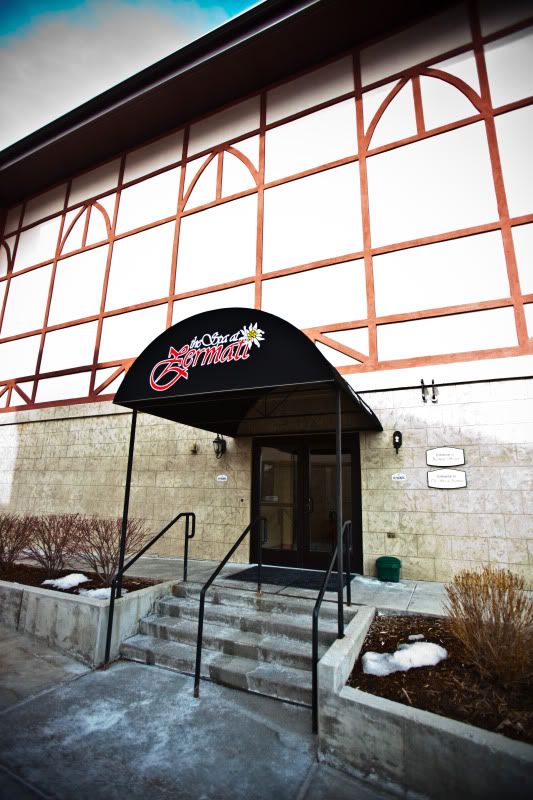 The Spa itself was what you hope to find in a resort level operation; comfortable and professional. Essential oils and new age music abound. We had a couples massage, which was wonderful, if just a little awkward for my lovely wife. See, I tend to get...vocal during a massage. Some people breathe, some people meditate, some people sleep.
I go: huuhnhhaaaaooohhhhthatfeelsgood.
Which gives my wife the giggles.
Anyway, we both agreed the massages were amazing. In particular we both commented on the magic they worked on our arms. Our therapists both guessed that we spend a lot of time in front of the computer. Imagine that.
And Home
A quick stop by the gift shop for some Milka for the babysitters and we headed home. As we drove down the canyon, we talked about our little outing; fun and funny moments, the food and the room and the massages. Here's hoping to going back soon.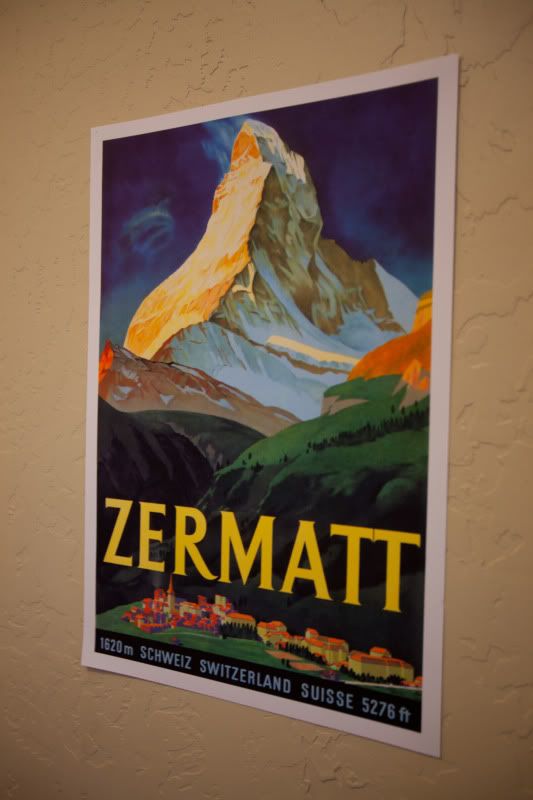 Cliffs Notes on Zermatt Resort:
- One of only four 4 diamond hotels in all of Utah, yet extremely reasonably priced.
- Resort is within a 45 minute drive from SLC & 30 minute drive from Provo.
- 20 minutes to Park City for Night life
- 1/2 the cost of most accommodations in/around Park City and Deer Valley
- European Style Year Round Resort
- Won 14 Best of State Awards in three years including best Hospitality Property overall.
- 5000 sq.ft Day Spa
- Two Restaurants - Schneitter's is the nicest restaurant in Heber Valley
- European Bakery
- The Villa is a perfect couples suite or family condo (this is the same room type that you stayed in. You stayed in the Master Bedroom / One Bedroom size, but you can also connect the second bedroom which sleeps four.)
Zermatt also boasts the largest conference center in Utah so talk it up to your boss for your next conference.
Special Offer:


BED & BREAKFAST PACKAGE

- Includes one night accommodation in an Alpine Guestroom

- Breakfast for two in Matty's Bistro

Midweek starting rate* $159.00
Weekend starting rate* $169.00
*Ugrades available at an additional cost.
TO BOOK THIS PACKAGE, call 866-643-2015

Also: Follow Zermatt on facebook and twitter as they do additional promotions and specials there.