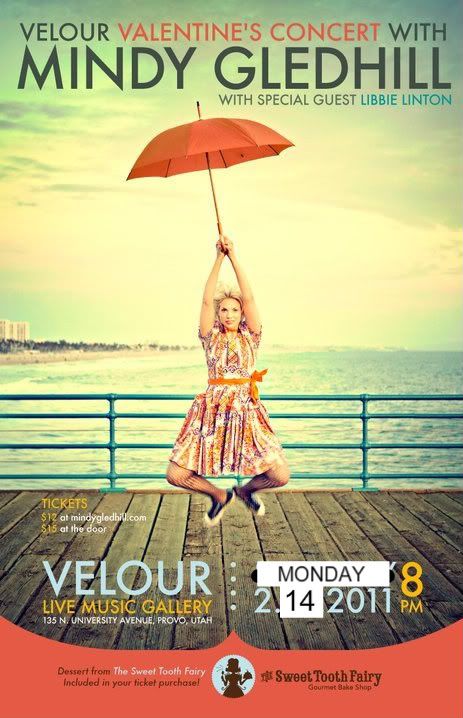 Way back in January (so long ago)
Mindy Gledhill asked me to post a date night suggestion for her Valentine's Concert at Velour this Saturday. But before I could post it, the concert was SOLD OUT. And where does that leave us? Nowhere. (I mean,
you
, nowhere. She said
I
could have some comps--free tickets--she was holding on to. Oh just kidding. I am still C. Jane, C. Jane from the block.)
(Don't worry about the comps that I got/I'm still CJ, CJ from the block.)
Then you know what that prolific Mindy did? She went ahead and added another show ON VALENTINE'S NIGHT! Same place--Velour. Same time --8. So now, what is your excuse? Sounds like a perfect Family Home Evening/Valentines evening outing to me!
Buy tickets
here
.
*just in case I get sued. I took my lyrics "CJ from the block" from J.Lo and also, it was me who went ahead and pasted the new dates on the concert poster. What? Can you tell it's not a professional job? I told you I'm just CJ from the block.