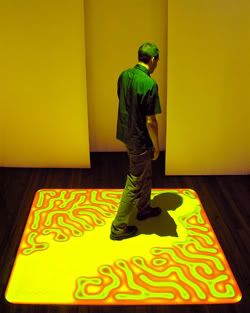 I took my two little people
over to the MOA to check out Brian Knep's exhibit called
Healing 1
. It's in the new Electronic Gallery in the lower level. It's a piece of floor that reacts to your body movement with pulsing shapes resembling healing cells. So it's an art exhibit and science project all in one.
I let Ever crawl over it while The Chief and I jumped, rolled and skipped all around. It was mesmerizing for all of us. After, we went to the BYU Bookstore and bought some new holiday books and a package of Superman band aids. Don't ask.
Go here to learn more.
I am Courtney Kendrick and I quite fancy the new e.g.
contact me: