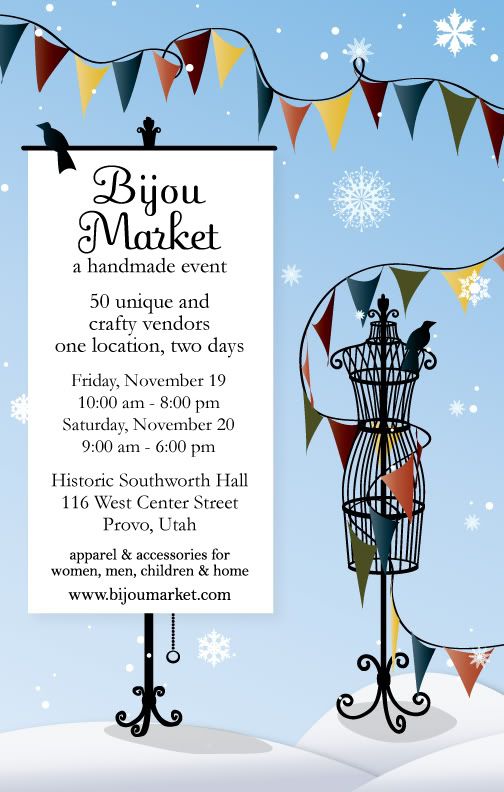 Do you smell it?
Turkey's brining, pie dough thawing, tummy's stuffing, and stress is mounting. Finding the perfect gift for everyone on your list may seem like a daunting task, until now.
Unique, one of a kind, never duplicated, handmade, local, upcycled are all keywords in a thoughtful and unforgettable gift, and Bijou Market has 60 handmade vendors with booths chock full of them. Purses, wallets, pillows, gift wrap, sweets, shoes, necklaces, headbands, dresses, jackets, wall prints, original art, scarves, beanies, mittens, & even swimsuits will excite and entice you. Where else can you find a gift for Grandpa on down to the bouncing baby on your knee? The mall, you say? Perhaps. But! Where can you find gifts for everyone while supporting your local economy, the handmade movement, and rubbing shoulders with the most talented ladies and gents in Utah County?
Come to Bijou Market, November 19th (10-8) and 20th (9-6) at Historic Southworth Hall on Provo's own Center Street (116 West.)
Check out the amazing line up of vendors
here
, RSVP on
Facebook
.
I am Courtney Kendrick and I am looking forward to doing a little shopping on Nov. 19th.
c jane on facebook
c jane on twitter