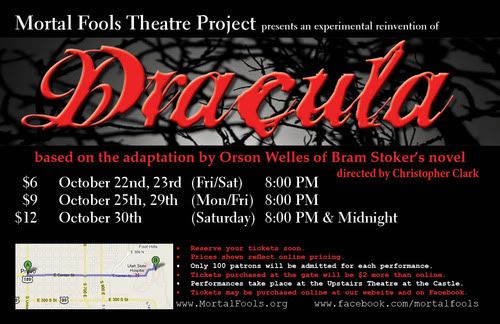 I wouldn't be c jane
if I didn't beg you to go to the
Mortal Fools Theatre Project's presentation of Dracula
to celebrate the season of haunts. It is brought to you by the same people who did
Frankenstein
last year and stars some of our best actors--yes, including my husband, the compelling Christopher E. Kendrick. It's a Christopher Clark (my brother) production so you can be sure it will be amazing and scary and unique and fascinating and entertaining all in one night's time. Plus, it will take place in one of the spookiest places in Provo--the
Upstairs Theatre at the Castle
. I am telling you this right now because tickets are going really fast and I want you to go. I really, really do.
To get you excited for the performance you can read the Mortal Fools blog
here.
Or just get your tickets already
.
I am c jane and I am counting down the days, and the days aren't going fast enough.
contact me: