I have said this before,
and I will say it again the BYU Homecoming parade is the best event in Provo all year long. Well, I mean, it was before the
Rooftop Concert Series
was created. Word!
It is:
entertaining. BYU clubs and teams represent like the folk dance team and jitterbug club or whatever that club is called, and hip hop club (who knew?) and the Poly club and some lip syncing groups too--LOVE THEM! And Cosmo and the marching band, I mean the Power of the Wasatch and the mayor too. Probably.
It is:
interesting--there is always a former BYU hero of some sort strolling down the parade and clubs you've never heard about like the middle aged Alum Red Hat Club on bikes from last year. I still don't know what that was all about BUT one of the guys was my mom's cousin and I said, "Mom! There is your cousin on that blue bike." And she stood up and yelled to the man, "ARE YOU MY COUSIN?" And it turns out, I was right.
(What? See above.)
This year's grand marshals are
Dave and Cheryl Rose
. Cheryl used to be a Rebelette. If you don't know what a Rebelette is, you should study up on your Dixie College dance team fact sheet. But anyway, smart PR move by BYU, covering up the atrociousness of this year's football season with a hint of hope in the upcoming basketball season. Well played Brigham Young University.
It is:
NOT CROWDED. In fact, the only people I ever see at the BYU Homecoming parade are my neighbors. There is more than enough space on the parade-viewing front which is a refreshing difference from the Freedom Festival parade, right? RIGHT? Yiiikes.
It is:
short. As parades should be. I went to the Macey's Thanksgiving Parade last year and it was great BUT I had grown a trollish rust-colored, gray-speckled beard by the time it was over. It was so loooong. And wait, did I grow the beard or did my baby? Anyway, you get the point.
It is:
a candy throwing parade so make sure your little brutes bring something to carry their loot home--don't say I didn't warn you--this parade is all about candy. CANDY! CANDY! CANDY! AND HOMECOMING PRIDE! I guess.
See you there.
Photo from last year: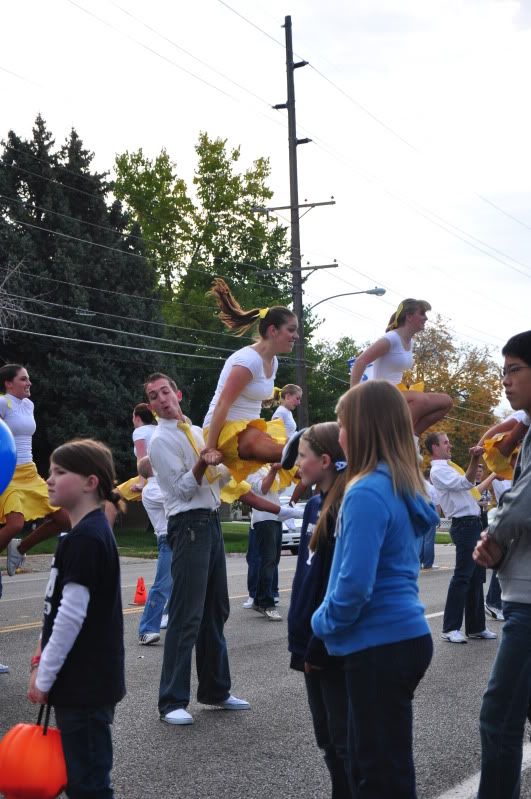 I am c jane and I didn't even go to BYU so this is definitely not some alumni duty I am doing here.
contact me: