Yesterday I got this comment
on the previous post:
I apologize.
So here it is from the beginning.
In the beginning
I was asked to sit on a board concerning the cultural arts for downtown. Our mission was to bring more diverse art and culture to our city. We talked a lot in many meetings, then one day I decided to add a couple friends to the board and behold, our talk turned into action.
We decided to create a concert series. On the rooftop at the Provo Town Square--the parking structure behind Central Bank. Awesome, except we had no money--no sponsors.
One day while I was soaking in the tub I felt really strongly that my main blog (
cjanerun.com
) should sponsor the first ever
Rooftop Concert Series
. I get my best ideas soaking in the tub (no visuals please).
Yay.
Then like lightening to our thunder,
we were asked if we'd like Idol Alumnus
Brooke White
to come for first Rooftop Concert. Budding star
Benton Paul
would open for her. Sounded like a good deal. So we printed out fliers, made posters and started to promote the heck out of this concert:
But weeks after Brooke's manager called to say Brooke was going to take another gig and couldn't go on with ours. She sent this:
It worked out alright because Benton is a veteran performer in his own right, so he vamped up his show, became the headliner and brought on the local favorite
Nik Day
. So then there was this: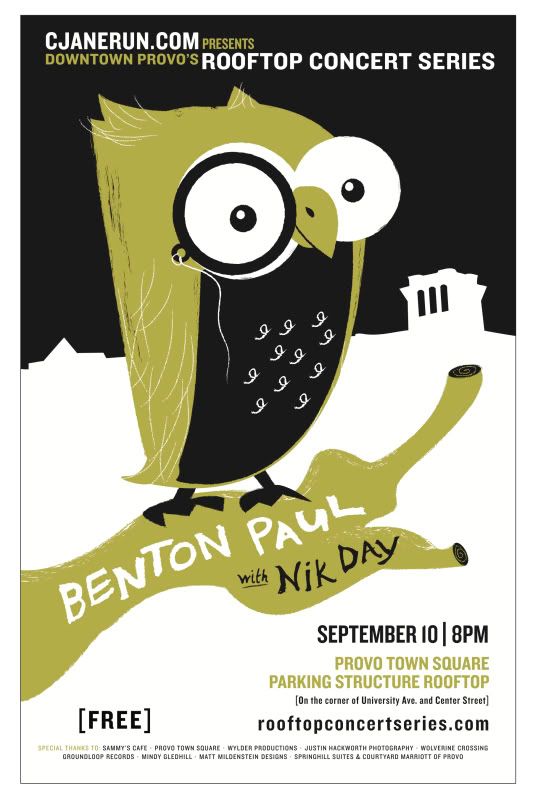 Anyway,
Mindy and I are can't wait. I mean, we
can
wait.
I can never keep up with her snaps.
Come! Bring chairs!
I am c jane and I love charity and I am not really up on the rooftop.
contact me:
cjaneprovo@gmail.com
or
join me on
facebook