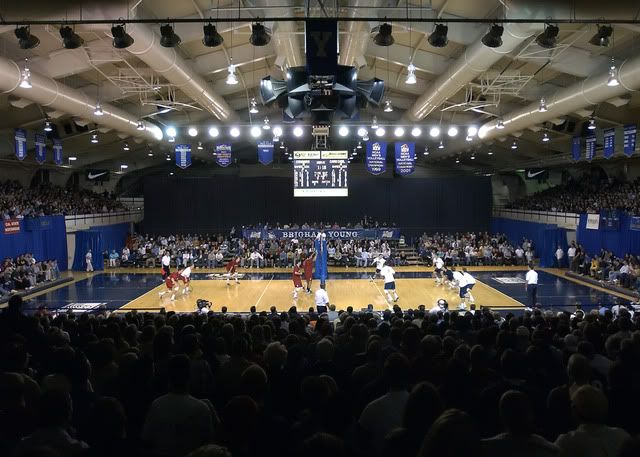 This morning my cousin Katie D
came over to deliver some colored glass stars I ordered. By-the-way, if you love
colored glass stars
(first crafted by Provonian artist Kurt Knudsen) Katie makes them out of her home. And howdy, they are most lovely in the morning sun.
It was early, and even though it was a red-alert smoggy day, Kate looked like she was dressed for sunshine.
I said to Katie,
"What are you doing today Kate?"
And she replied,
"Taking the kids to the field house with
Jayne
."
Ahh yes. The field house.
If you were going to ask me about my favorite building in Provo I would answer the Smith Field House on BYU campus. It is old, but it was built with foresight and genius. Big enough to host a small planet and its ability to hold multi-functions under one roof is incredible. A wondrous place to bounce echos off the walls, jump and roll on the pole vaulting mats and most importantly, take energetic children to dissolve all wintery-pent up steam. There is enough room to run to eternity. I don't know a child alive who doesn't love that place.
But not only for these reasons to I love the SFH. The place has a soul, an exciting energy runs through the open corridors, around the track and spreads about in the multi-use arena. You can smell it in the air, a sweaty, musty smell of decades past. It has captured all the thrills of sports and mixed it with the determination of athletes as they go about their business training for the next meet.
If you are tired of the cold, smog-filled, heartless days of January, try taking your spirit (and children, if you have them) to the SFH and let it fill you up with energy (while it conquers the adrenaline of your children). It is free, open to the public, and is iron-made so that there is nothing destructible standing--even for your clever two-year-old.
Then, when you've had enough, go home and take a long winter's nap.
More info
here.
Photo from
here
.