So much to talk about today on c jane's
Guide to Provo . . .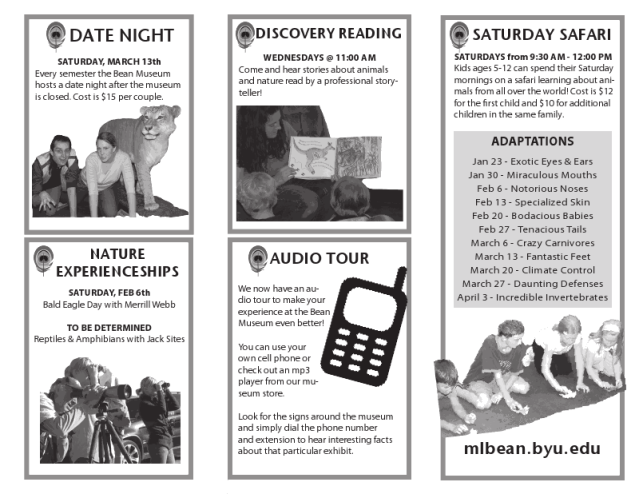 Everyone's favorite Provonian
--
Katy Knight
-- daylights as the educational specialist at the
Bean Museum
. Recently she sent me an email detailing all the fine extra-curricular educational opportunities at the Bean. Did you know every Wednesday at 11:00am there is a
Discovery Reading
activity for the kids with a professional story-teller, and maybe . . . even . . . a live animal? Sounds wild.
(Speaking of wild, Chup and I are thinking of exploring the Date Night event. I am not sure what the couple is doing with the lion in that photo--above, left, but it sure beats dinner and a movie . . .)
Visit
the Bean Museum
for more info.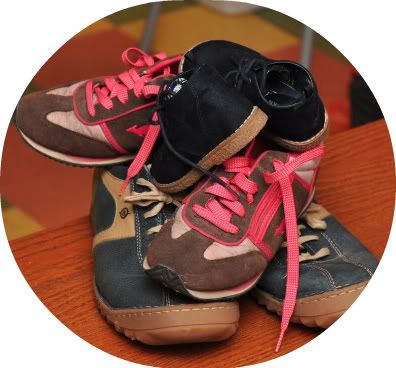 Tonight for our Family Home Evening activity
Chup, The Chief and I all picked out a pair of shoes to donate to
Modern Shoe's
campaign for Soles4Souls. Donated shoes will go to Haiti to help those who are in need.
Although boots are preferred, Modern Shoe will accept any shoe of any size. We didn't have boots to donate but we did have some kickers we don't wear. Although, why I don't wear my pink and brown Kangaroos is beyond me, they are completely rad.
When we went to drop off our donation I was stunned to see a massive mountain of donated shoes in the storefront. Mostly boots. I felt a little bad we didn't donate boots, but style points to us for giving away the cute shoes right? All the Haitians I've ever known appreciate a good style in a fun color and even a terrible earthquake can't take that away from a culture.
If you'd like to donate or find out more, read
this Daily Herald article
.

Provo's own Amanda Barker
had the idea of the century: Halftees.
The ladies feel me when I talk about the bunching up that happens when too many undershirts collide with an outershirt. Halftees give you the comfort (and modesty, really) of an undershirt without all the extra fabric yardage.
My sister-in-law invited Amanda over to her house to show us the beauty and design of Halftees. I bought two on the spot, as did my sister Lucy. I wore mine today for the first time. I will tell you this much, while at a check up with my midwife I didn't have to raise nine shirts for her to gain access to my belly. It was heaven.
See? Like this (but not a lot like this on me):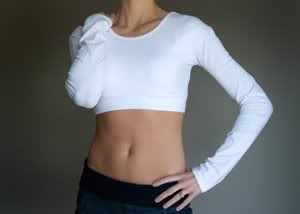 In conclusion, fellow Provonians, I fully endorse these babies. And here is the good news, you can buy them online
here
, or at the University Mall at a kiosk called "All That You Need" near the food court.
With every purchase you are helping a Provo neighbor pursue a dream.
I also blogged about them on my product blog--dear c jane--you can see that post
here
.
Ok, I am out.
But, don't forget to vote for Provo's best tax institution on
Episode Three of Fight It Out
.
To the nail and tooth, Provo, tooth and nail.