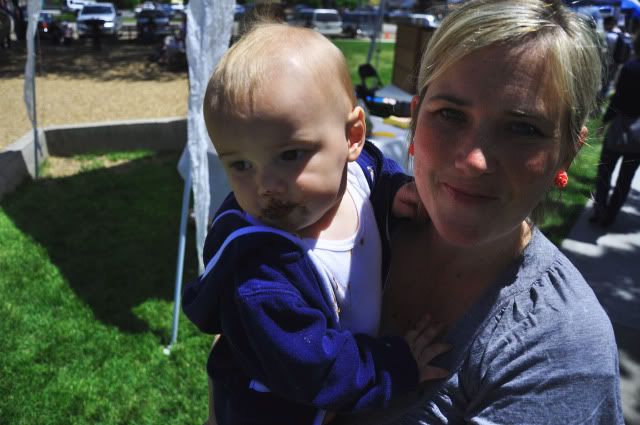 The Chief and me at the Farmers Market last June
(If this section of the list seems particularly food-heavy, it is because I wrote it while hungry.)
40. Go to the
IFA Country Store
and examine at all the random merchandise.
41. Try a pre-made deli sandwich at Day's Market. (I fully endorse the Tuscan Turkey sandwich).
42. Take a date to Asaka's All You Can Eat Sushi. Wave at the sushi chefs as you leave.
43. Discover Pioneer Village at Provo's North Park.
44. Order a white hot chocolate at Juice n' Java. Sprinkle with nutmeg for good measure.
45. Try a slice of genuine Boston-style pizza made special for you at
Nicotalia Pizzeria
.
46. Hike up Slate Canyon.
47. Start your mornings (or really late nights) with breakfast burritos from Rancheritos (formerly Betos).
48. Enjoy the view of the mountain range from Sunset View Park.
49. Or, enjoy the view of the valley from the base of the Y trail.
50. Eat a Dunford Chocolate-on-Chocolate Donut at participating gas stations (any 7-Eleven will have them) found in clear, plastic donut shelves.
51. Hook up with the Provo River Parkway trail on Geneva Road and follow it west to the end--Utah Lake. Bring your bike or rollerblades.
52. Hook up with the Provo River Parkway trail on Geneva Road and follow it east until you arrive at Columbia lane. Bring your scooter or rollerskates.
53. Explore the entire Provo River Parkway trail. Why not?
54. Pay pennies for a dreamy towering soft serve ice cream cone at Macey's grocery store.
55. Try to find the elusive Uncle Bud's park.
56. Take a day trip to Sundance Resort. No matter the season, something is always going on.
57. Eat the egg rolls at Rice King. Feel like royalty.
58. Spend a night at the Hines Mansion Bed & Breakfast.
59. Visit Provo's Farmers Market from May-October.
60. Try the swings at Westridge Park-I swear they are more swing-ier than others.