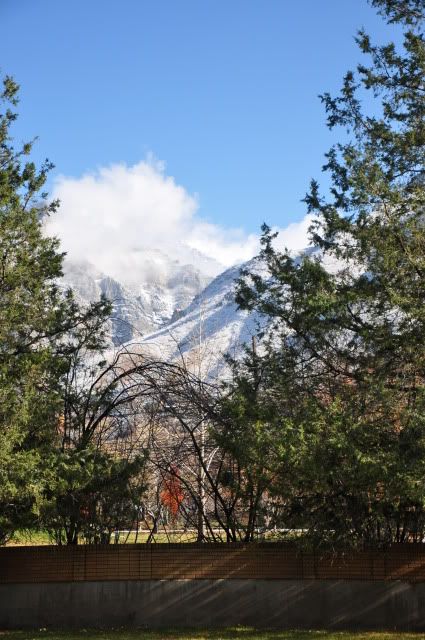 Try not to be jealous of my view of Squaw Peak, go ahead try
Provo is always better in the throes of a storm.
The white washed mountains, the dusted valleys. Saturday's snowstorm did my heart right.
I throw pillows at weather casters who announce sunny weather with smiles. What is so special about sunny weather? Sunny weather is nice, but a storm? A storm is stupendous. I like a blizzard with lightening, or a rainstorm so serious drops turn to hail. Bring them on, more of them and don't skimp on the dramatics.
I like leaves blowing up and down my street. Watching BYU students out my front window running for cover when the wind gets angry. Falling asleep to drip-drip-drip from my bedroom door. Provo's weather has given me all of these things this past week. I am starting to hope for a Thanksgiving white out. Who doesn't love playing the Turkey bowl in the snow?
Forget those meteorologists, I predict a wet winter.
***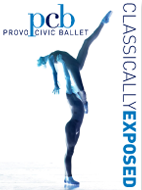 Did you know Provo has its own ballet company
called the Provo Civic Ballet? I didn't either. But check this out, an email from Ali Jones:
Provo has it's own little ballet company
- the Provo Civic Ballet, comprised of twelve very talented dancers. They will have their premiere show next
Wednesday, November 18 at 7 p.m.
at the
Covey Center for the Arts
.

The artistic director, Jennie Creer-King is a Utah County native who started the Classical Ballet Academy here in Provo 5 years ago. The ballet training she provides is top notch. This Gala Performance will showcase four new choreographers from across the country. There will be a reception following the one hour show to celebrate what hopefully will be a local treasure!
Provonians! Let's support our local dancers and downtown culture!
Click
here
to buy tickets.
Click
here
to learn more about the pcb.
***

Last week when I was being interviewed by Studio 5
, I stated one of Provo's greatest strengths can be found in our cropping of stalwart youth. Of course, my niece Lindsay and her bff Dixie (sometimes just known as Dix) were standing right next to me wrangling The Chief while I stuttered on camera. Both solid teenage Provonians though. Anyway, the sound bite didn't make it on air, but nevertheless I still mean it.
Take for instance nephew Clark, a junior at Timpview High School:
Look at that face when he gets up and walks away. Teenage pain, something about it feels
so
good.
p.s. Do you think Provo has more trampolines per household than any other city in the state or state in the union? Give a shout out to trampolines if you have one. Holla.