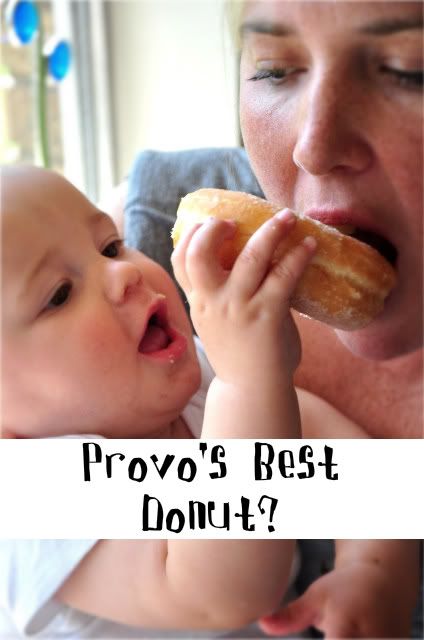 I have no choice but to give it to Provo Bakery.
My sister Lucy agrees, she says, "I like the Y donut because it is eating a donut bigger than my thigh."
Way to
Fight It Out
Provonians!
Stay tuned for next time . . . dry cleaners.

***
Provo makes national news,
goes viral and even hits Letterman when a New Mexico soccer player pulls some bad moves against BYU players during a Mountain West semi-final on the Cougar's field.
If you are the only monkey in the universe who hasn't seen it watch the video
here
.
***
VERY IMPORTANT MESSAGE!
Rumors are true.
Downtown Provo's beloved
Maestro's
Cafe is wavering upon extinction. We can't let this happen. Let me put it this way, WE CAN'T LET THIS HAPPEN.
If you haven't been properly introduced to Maestro's Cafe allow me:
Flavorful gelato and an orchard of selection. The taste of this gelato will tempt you turn your back on ice cream forever. Free samples with the worlds smallest spoons (in florescent colors!)
European crepes at your leisure, cuddling with clouds of cream.
Real hot chocolate from real chocolate. If you've never experienced professionally-made hot chocolate, I'm sorry to say you've never lived. And isn't it about time? Petite mugs too.
. . . and the latest feature to the Maestro's menu is artisan pizza.
So now you know each other better, how about you join forces with me and
Azucar
in our
SAVE MAESTRO'S
campaign?
Here are somethings you can do as fellow campaigners:
Go to Maestro's regularly--and while you are there tell them you are doing your part to keep them around.
Blog, tweet, facebook about Maestro's.
Tell your neighbors, your bishop and your bishop's wife to go there. Also tell your local Democrat.
Don't succumb to any "diet" where you can't "indulge" and life's simple edible pleasures. Right?
Will you hold my hand and join with us now?