After some positive feedback
of my
weekend date plans
I've decided to keep up the good work.
Here are some options for this weekend.
Option One:
For an early dinner, go to
La Carreta
a Peruvian restaurant by the University Mall. Get any of their plates with the fries. My brother Steve said it was just like the plates he ate on his mission in Lima. Maybe even better. If you are disappointed it is your fault. Buy a big bottle Inca Cola and get your evening started off right.
After dinner, go see Charlotte's Web. The director, Christopher Clark, is a man I know well. In fact, I was birthed from the same uterus.
Here is what he has to say about the play:
The other day I was standing in line at the post office and this guy is complaining to his friend about how he's dying to see a solid theatrical production about pigs and spiders, but never gets to. His friend agreed, and added that he would really love a good pig and spider show "specifically if they used puppets." Can you imagine their surprise when I told them about Charlotte's Web, a production I've just directed at Utah Valley University? And that we are using life-size marionette puppets for the animals? All this happened right there at the post office!
I guess there really IS a demand for pig and spider puppet plays. I wanted to pass along the info to you through my sister cjane, who always seems to have her finger on the pulse of what's hot. Trust me when I tell you: CHARLOTTE'S WEB IS REALLY HOT RIGHT NOW. It's for kids, but it's also for the kid at heart. I think you will love it. Please come!
September 17-October 3
Noorda Theatre
7:30 p.m.
Matinees on September 19 & 26
more info
here
.
After the play head to head back up University Parkway to
Hello Yogurt
and make your own yogurty creation. Then, write and tell me about your experience because I've never been there.
Option Two: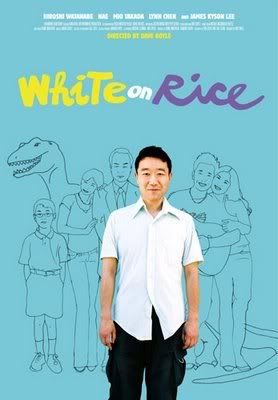 Support a local film maker by going to see
White on Rice
but first, in celebration of the Asian culture, go to Rice King in downtown Provo. Rice King is sacred to Chup and me, we've loved it for sometime now. It's the perfect cheap, spicy, locally-owned Chineese shop you've always wanted. We order eight egg rolls and share one with The Chief. All meat can be substituted with golden tofu. You can find Rice King our Beloved at 278 West Center Street. If you like to know before you go, you can see the menu
here.
Next head to the showing of White on Rice.
Here is what production designer Megan has to say about the movie:
It is a comedy about a family that was filmed in Utah--primarily in Sugarhouse, but there are some scenes that were filmed in Provo. My brother Dave Boyle is the writer/director, I was one of the co-producers and did the production design. We both live here in Provo, as do many of the crew members.
"White on
Rice
" opened in LA two weeks ago, then San Francisco last week and it is coming to two theaters in Utah starting Friday, September 25. In Provo, it will be opening at the Cinemark 16 at Provo Towne Center.
The film also stars a Provo local, Justin Kwong (an 8th grader at Centennial Middle School). He was recently given the award for "Outstanding Newcomer" at the Los Angeles Asian Pacific Film Festival.
There will be Q&A sessions with Dave Boyle (the director), Hiroshi Watanabe (the star...also in "Letters from Iwo Jima") and Justin Kwong.
You can catch it down University at
Cinemark
on Friday at 6:45 pm, or 9:00 pm. (Also showing on Saturday 11:55 am, 2:10 pm). Or find out more on the
website
.
After the movie head north on University back the way you came. Hit up
Maestros Cafe
for hot chocolate. Sit outside on the tables and watch the nightlife. Heck, Provo has nightlife.
Email me and let me know how it goes.
But remember: loose lips sink ships.
Of course,
you could also try your luck at being seated at
Communal
for their Friday night official public opening. And for that, I wish you the best of luck.
(More Communal news to come!)