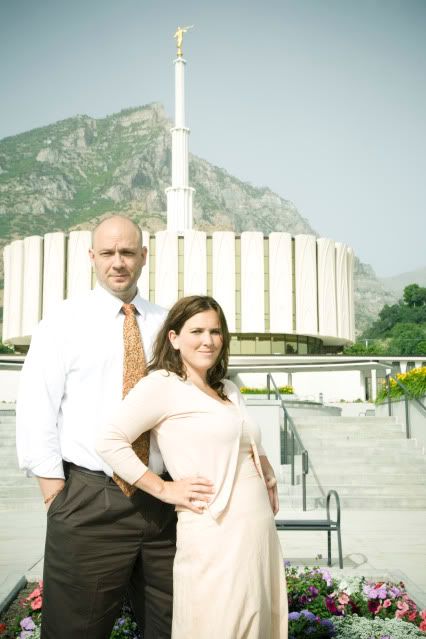 Yesterday Chup and I
officially made it through seven years of marriage. As far as I can tell neither one of us is itching. It's good.
To celebrate, we took the acclaimed
Michael Wiltbank
on his offer to take our pictures in front of the Provo Temple where we were
sealed
. Our official sealing took place in the evening in the early winter, making it impossible for our sunny day temple shot which so many Mormon couples hang in their early apartments.
In recent years I have fallen in love with the unique look of my temple. It doesn't carry the spirals of the
Salt Lake Temple
, or the biblical recollection of the
Mesa Temple
, but it's a gift from the decade of its conception. Built in the late'60s, the design is symbolic of the cloud by day, fire by night promises given to the children of Israel.
While most local Mormon brides (it seems) make quick appointments to the Salt Lake Temple for their dream wedding, I cheer on those who settle on the Provo Temple. So do
local photographers
, for that matter. It has a charm, temple workers are astounded and thrilled to help with a live sealing, and you are sure to get a breathtaking view of Squaw Peak in your wedding photos.
So lovely in fact, in seven years you might be tempted to do it all over again.
Enter our Provo Freedom Festival Photography Contest
here!